The Backup function is used to create a backup copy of Interactive Calendar databases. It creates a CAB archive file, which contains a program's database. You can use this file to restore database if it will be necessary.
To make a backup copy, click the "File - Backup" Interactive Calendar main menu item.
After that you will see the Backup dialog box: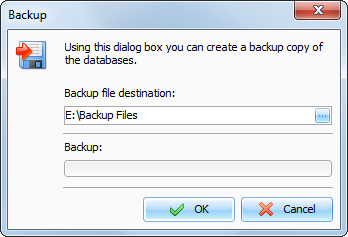 Specify the backup file location.
After that, press the "OK" button.
You will see a progress indicator of the backup at the bottom of the window.
When backup completed, you will receive an appropriate message.